We spent most of the day at the park today so I wasn't in the mood to make a big dinner. I also wasn't in the mood for something that was 1) going to take a lot of time 2) going to make my kitchen hot 3) require a lot of clean up.
Pasta seemed like the perfect solution. What's even better is that my husband claims to have never tried pesto. Hard to believe, I know.
We have a massive basil plant in our backyard this year so this morning I whipped up some pesto following
this
recipe.
Here's the rest:
Ingredients:
1-2 packages frozen tortellini (or, make your own if you're a go-getter)
1 zucchini, peeled and cut into slices
1 red pepper, chopped
3 portobello mushrooms, sliced
1/2 bag frozen broccoli
2 cups frozen corn
handful of cherry tomatoes
zest of one lemon
How To:
Boil a pot of water and cook the pasta. Meanwhile, in a hot pan add a splash of cooking oil and toss in your peppers, cherry tomatoes, frozen broccoli, and frozen corn. Cook until veggies are soft and the tomatoes are just starting to burst. Add in lemon zest, mushrooms, and zucchini and cook until the zucchini is soft and semi-translucent.
Drain your pasta and add your veggie mix to the empty pot with 1/2 cup pesto and stir. Add in your pasta and another 1/2 of pesto and mix it all together.
And there you have it! I covered my veggies when they were cooking and that helped speed things along.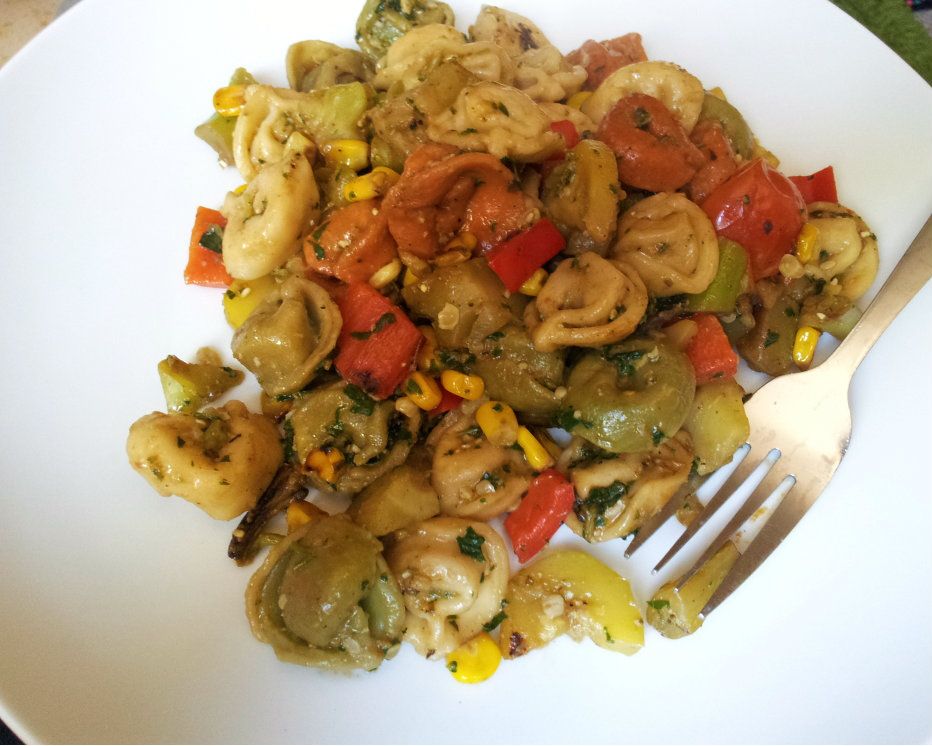 This was delicious. My husband and toddler were both fans of it, too!