With the weather becoming warmer and warmer I've been feeling more and more summery. One of my favourite summer treats? Watermelon!
This week, I decided to try something a little different with some watermelon.
I found this link on Pinterest that talks about how to pick and cut-up the perfect watermelon
::link::
The method demonstrated for cutting up the watermelon was so easy and made less of a mess than I usually make.
But, back to the slushies! This idea was a delicious alternative to ice cream and was very refreshing.
I should mention that these measurements are approximate because I was eyeballing it. Also, I washed, cut, and froze my fruit two days before.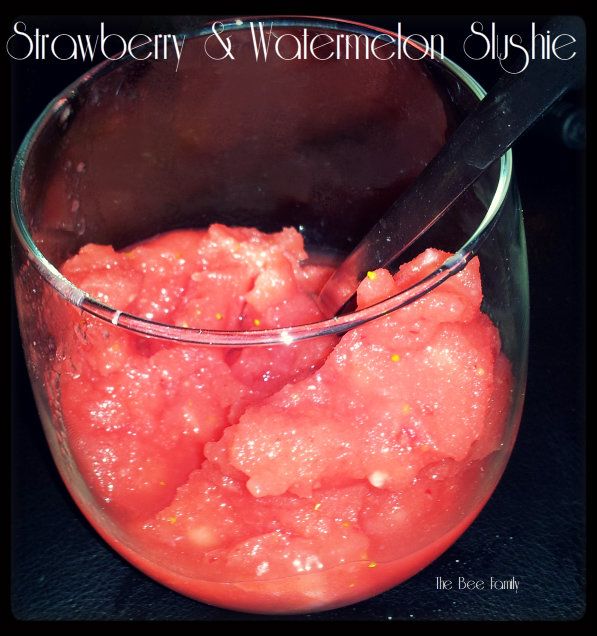 What You Need:
2 cups cut up and frozen watermelon
1 cup cut up and frozen strawberries
1/2 cup ice
2 tbsp liquid strawberry daiquiri mix
Squirt of lemon juice
How To Make It:
Throw everything in a blender and let it whirl! You may need to take the lid off and mix it around every so often. I found that the slushie part kept getting stuck on the bottom, while the uncrushed bits rested on the top.
You can add less or more of any of the ingredients to make it better fit your tastes.
Blend until it is mixed together. Simple!
Things I will change for next time? Using smaller ice cubes! I have somehow lost all my ice cube trays, so I only had large starfish shaped silicone baking molds. It may have been easier to crush the ice separately and add it to the mix.
I would also freeze my fruit in a single layer on a cookie sheet and then add it to a freezer bag (this is what I do when blanching/freezing veggies). I placed my cut fruit in bowls in the freezer and they froze into big lumps. Doh!
The flavour combinations are endless, too! I think banana would go well with this combo. You could add blueberries, pineapple, kiwis....Delicious!